Finding us
You could take a taxi from the airport or pick up your hire car
at the airport and drive direct to the house.
The address is:- Mangoes, 94 Hibiscus Avenue, Sunset Crest, St. James, Barbados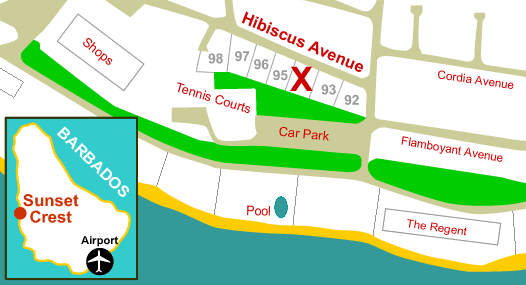 Mangoes is situated in Sunset Crest, just south of historical Holetown.
Finding Mangoes by car from the Airport is not too difficult
- allow about 35 minutes driving time.
Drive left out of Grantley Adams International Airport and head for the main ABC Highway (second turning off the roundabout. You will go straight ahead over several roundabouts (Barbadians are always inserting new ones!)
After 10 minutes or so, you will approach the final roundabout on this stretch - where you can see some tall office buildings ahead on the right - as you go across this roundabout, get straight into the right hand lane.
About 300 yards further on there is a petrol station on the right, immediately after it, turn a very sharp right. Then get into the left lane - after a couple of hundred yards, you should turn left up a steepish hill - now you are on the main road again.
From here, you keep going straight on for four roundabouts. At the fifth (which is only 150 yards past the fourth!), take the second left heading for "SPRING GARDENS".
Follow this straight down (a couple of miles, or so) until you come to another roundabout (Bajans like roundabouts, it seems) and turn right.
Well done - you are now on the west coast road. Drive on for about ten minutes, then you will see a lovely view of the beach and sea on your left - this means that you have not far to go. After this, you will be passing, first,a lot of smart hotels and apartment blocks on the left, then "Sandy Lane Hotel". Keep going for about a mile and you'll find the beginning of Sunset Crest on your right - impressive entry pillars bear the name.
Drive past the first two turnings, then turn right at the Petrol Sation, straight ahead you will come to a "T" junction. Turn right here and you are on Hibiscus Avenue. Mangoes ( No.94 ) is situated about 200 yds along on the right hand side - it it the third house from the end and a plaque with the name hangs on the gate.
Flights
Flying from the UK, from Manchester, Gatwick or Heathrow takes between 8/9 hours.
Newmont Travel (www.newmont.co.uk) sometimes offer discounted flights with major companies like BA and Virgin.
Carriers do their best to make the flight enjoyable bringing complimentary drinks and snacks as well as providing a vast range of entertainment for your individual choice.

Car Hire
We recommend www.barbadoscar.com