Barbados
A variety of beaches to choose from

Eat out in exotic locations

Enjoy the many local interest attractions
Although it is only 21 miles long by 14 wide, Barbados is a "big-little" island, with a tremendous variety of things to see and do!
The coastline divides naturally into three parts:-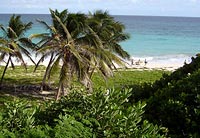 The East is mostly wild and scenic with huge Atlantic waves pounding the beaches, ideal for sightseeing and photo-opportunities but not recommended for swimming!
The West (our bit, also the chosen venue for nearly all of the top-class hotels and many luxury villas, which house the rich and famous) has much calmer waters and is ideal for swimming and snorkelling (the Folkestone Underwater National Park is right opposite Mangoes).
The South Coast Beaches have much less calm waters than the West, but are mostly still safe for bathing. The pace of life is quicker here and nightlife generally noisier especially in "St. Lawrence Gap".
Attractions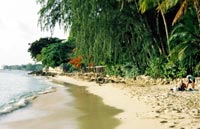 There are too many visitor venues to list all but we would strongly recommend that you see Harrison's Cave, Bathsheba (incredible coastline), Andromeda Botanical Gardens, Orchid World and the Flower Forest.
Don't miss the stunning scenery at North Point with wild seas and huge cliffs. The restaurant serves coffees ices, drinks and good lunches in a spectacular setting.
Visit ancient plantation houses, beautifully preserved and furnished. (Sunbury, Francia).
You could visit a Rum Distillery or the Malibu Centre and you can get to the capital, Bridgetown, by bus - it can be quite an experience to see how many people they can cram on board!!! Or get away from it all; try finding some of the lovely, unspoilt beaches illustrated and take a picnic!
Activities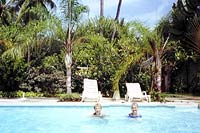 Back at Mangoes on our own West Coast, as well as enjoying the swimming pool just across the road, you can swim, snorkel, dive, water-ski, jet-ski or para-glide. For more sedate enjoyment, you can take a trip in a glass-bottomed boat or catamaran, cruise on the "Jolly Roger" or even go underwater in the Atlantis submarine.
Eating Out
If you want to dine out you can walk from Mangoes to many restaurants and bars in less than five minutes. The area has every sort of eating out available, from (good) fast food at economical prices to fine dining. Prices are generally reasonable by UK/USA standards and you can easily dine "beachfront" without paying a fortune! Old "Holetown", two streets within easy walking distance, is the home of a wide selection of establishments serving food and drink and we now have Lime Grove offering flavours from all over the world as well as top class shopping in well known designer stores..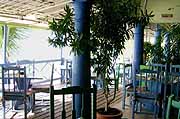 Getting Around
Make sure that you get around the Island! Car hire is strongly recommended; you can reserve this from home (we find that www.barbadoscar.com can give a good deal).
Links of Interest