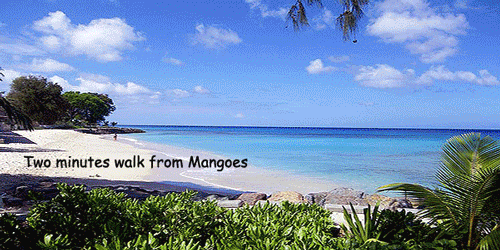 Your first day in paradise!
All this ..... on your doorstep!
No, you haven't died and gone to Heaven - you have arrived in one of the most beautiful places on Earth - Barbados!
Barbados is a tropical island; one of the Windward islands of the Caribbean. The locals proudly say that it is 21 miles long by 14 miles wide. It has a fabulously varied coastline with warm, gentle turquoise seas on the Western, Caribbean side and wild, exhilarating waves on the Eastern, Atlantic side. It is a coral island so it has exciting cliffs, caves and gullys to explore as well as a lot of history!
The centre of the island is quite hilly; fondly called the Scotland District. As soon as you have lost the view of one coastline, you begin to see the other.
Mangoes is a gorgeous, traditional villa, beautifully updated throughout.
Set in a tastefully developed area on the "Platinum Coast", this private, peaceful and secluded house is perfectly placed for access to all amenities.
All the things in the slideshow; beach, pool, shops, coffee shops, restaurants, bars and banks are all between two and five minutes walk. If you want to stay local and chill, there's more than enough to do on the doorstep. If you want to get out to explore the island, there's a world of variety waiting for you.
Practical amenities
* Right on the doorstep, we have Sandy Crest Medical Centre - we hope you won't need it!
* The main supermarket for groceries, recently totally rebuilt and very well stocked is a four to five minute walk.
* The petrol station and its mini mart are about five to six minutes walk away.
* Bus stop - one minute walk away.
* Taxi Rank - one minute walk away.
Please use the links to see the house, more detail on local amenities, further afield and more.
Visit the Windward Isles
of the Caribbean.
Villa Rental By Owner
West Coast,
Barbados
Cath and Ian Mills
Keramos,
High Street
Rothbury
Northumberland
NE65 7TQ
UK


Web Site Design

Cathryn Mills
2020